Blending form with function
A Lifton Home Elevator will help you to continue enjoying the home you love, just the way you intended. What are the options? Moving house perhaps, or building a downstairs addition for a bedroom. Both of these are expensive, stressful and disruptive.
Our residential elevator is all-inclusive and installation is quick and simple. Consultancy, surveys, delivery, installation, demonstration and after sales assistance are all part of the package from your local Authorized Representative. We will make sure you chose the right product for your needs and place it in the optimum location in your home.
Think of the Lifton Home Elevator as an upgrade to your home
A Lifton Home Elevator intelligently combines latest technology, stylish design and uncompromising safety. It will help you overcome the barriers to fully enjoying your home in the easiest and most convenient way possible.
For more information please call us free on (610) 419-3200 / (833) 784-5891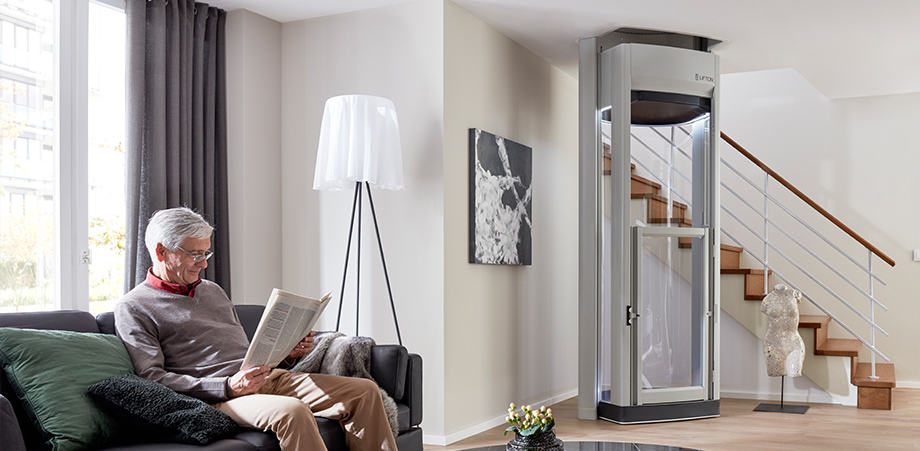 An excellent solution to the problem of getting around the house; and means we no longer have to move to a bungalow
The advantages of a Lifton Home Elevator
A small footprint
The Lifton Home Elevator has a compact footprint of just 8.5 square feet. That's great for placement options and helps it blend beautifully into your living space.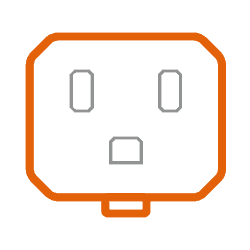 Plug and play
Well, almost. the Lifton Home Elevator plugs directly into a regular 110v or 220v power outlet. In the event of a power outage, battery back-up gently returns you to the ground.
Self-supporting system
Because of its vertical stilts, positioning a Lifton residential elevator is very easy. It can tuck into the corner of a room, a stairwell void, on a landing or even in a closet!
It's very quiet. Shhh
Thanks to easy-glide rails, built-in drive technology and mains power operation, the Lifton Home Elevator is very quiet. Once you are used to it you will barely know it is running.
Super-quick installation
There is minimal construction work involved in the installation of a Lifton Home Elevator. It is quick too, with typical installations taking 1 to 2 days.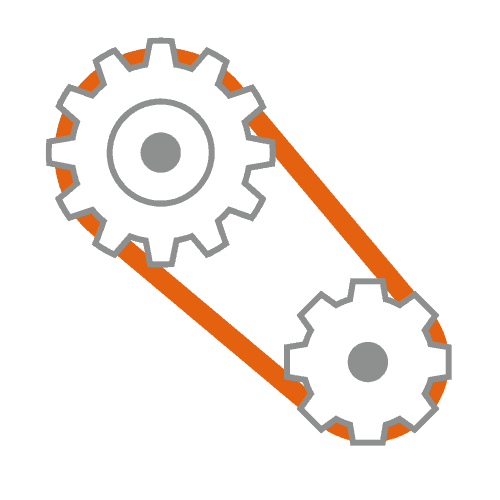 A built-in drive system
No visible hoists and no noisy motors. Lifton Home Elevators run using discreet wire ropes and built-in drive equipment all neatly concealed in the lift car roof space.
The manufacturing strength behind Lifton Home Elevators
Designed and manufactured by USA and UK-based residential elevator company Stiltz Group, you can be sure that when you buy a Lifton Home Elevator, you will receive the highest levels of customer service from us – both before and after your purchase. Our internal team and Authorized Dealer partner will work hard to deliver the best all-round customer service we can. Guaranteed. Experience the relaxed and helpful approach of our highly-trained staff for yourself when you call to request a brochure or a home visit.
Lifton home elevators are compact but spacious which means they can be fitted into smaller eco-friendly homes as well as larger dwellings where space can still be at a premium. The small size of the elevator lift – it takes up just 8.5 sq ft – means that significantly less materials are used in the manufacture of the home elevators than conventional ones. The elevators can, in most cases, be installed without the need of a lift shaft so no extensive remodeling of a house with the associated materials, is required. This further reduces the environmental footprint of the Lifton elevator lift.
The Lifton range of residential elevators, which includes a wheelchair elevator big enough to accommodate a standard-sized wheelchair, are also low on power consumption and very economical as they are run from a 220v outlet or 110v outlet with step-up transformer.
Lifton Home Elevators operate a "values-based" social enterprise according to principles of social justice and environmental sustainability.
Stiltz Group
Stiltz Group has offices in the USA and UK, plus a network of global distributors. The company is innovative and technology-focused and works hard to deliver excellence in customer service and product development.
Free on-site consulting services
Our Authorized Dealer network are ready to assist you with any questions you may have. They will respond to your Lifton Home Elevator inquiry quickly and can offer the advice and information you need to make the right choice of Lifton home elevator for your lifestyle and needs.
Extensive service network
We operate a network of local Authorized Dealers which means you never have to wait long for your residential elevator to be serviced. We're proud of our partners who share our philosophy of providing exceptionally high-levels of customer service.
Warranty
For your peace of mind, we offer a standard two-year manufacturer's parts warranty on your Lifton Home Elevator.
For more information please call us free on (610) 419-3200 / (833) 784-5891
Ask our specialists a question
Our consultants will answer all your questions regarding Lifton Home Elevators and help you understand whether installing a residential elevator is the right thing for your family. We can discuss how the home elevator will work in your home, residential lift specifications as well as answer any questions about installation and maintenance.