LiftonDUO Home Elevator
The LiftonDUO is a two-passenger, top of the range, home elevator with cutting edge design and engineering.
Intelligent technology with the LiftonDUO Home Elevator
Combining an intelligent electric motor drive system and patented dual rail technology, the LiftonDUO Home Elevator supports and runs itself.
There is no need for a noisy machine room, lift pit or shaft or disruptive building work. Your home can stay just as it always was. The sleek, capsule shaped LiftonDUO residential elevator arrives in modules, can be pieced together in a day, and plugs straight into a domestic wall socket.
The blueprint for the LiftonDUO Home Elevator is way ahead of its time. You will not compromise on floor space thanks to its compact design. It has a simple control panel, atmospheric LED downlights and obstruction detectors for a safe and pleasant travel experience.
Designed in a chic grey, the LiftonDUO home lift is aesthetically appealing but discreet and does not interfere with your style choices or décor. This scenic lift is the ultimate home upgrade and comes with a beautiful transparent surround, which lets natural light flood through, providing every passenger with a delightful panoramic view.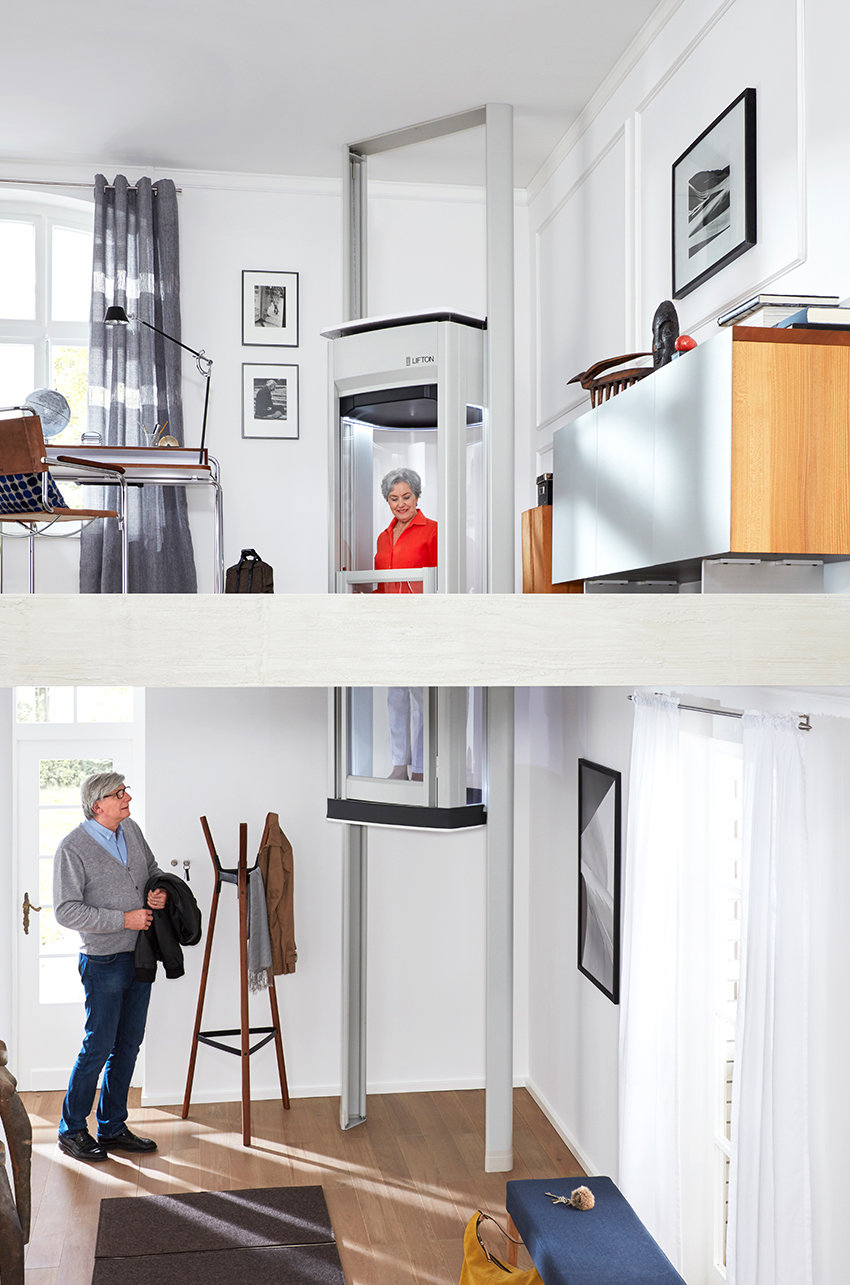 LiftonDUO Home Elevator Footprint
The Lifton DUO Home Elevator covers a footprint of only 4015/16″ x 2915/16″, including the rails. It is the perfect size to blend naturally into the background of a room, but comfortably accommodate two passengers side by side.
Our friends are intrigued with the LiftonDUO's elegant simplicity and queue up to have a ride in it!
Ask our specialists a question
Our nationwide lifts company will answer all your questions and help you understand whether installing a residential elevator is the right thing for your family. We can discuss how the home elevator will work in your home, residential lift specifications as well as answer any questions about installation, elevator customizable options and maintenance.