Home elevators: Nothing is out of reach with Lifton
It is now possible to enjoy the freedom to move around your home with no limitations with the innovative Lifton Home Elevator. From concept to reality, Lifton residential elevators were designed, firstly, to enhance a way of living, but also to be beautiful and to push the existing boundaries of technology.
At Lifton, our home elevators are unique because it is modular, self-supporting and requires no building work other than a slot in the ceiling to pass through. The elevator lift capsule is high-end, in a chic grey colour with transparent body which lets the natural daylight flood through. The ground-breaking design means that the Lifton team can install one of our in-home elevators in as little as a day and it can be placed into almost any location of your choice.
Bathed in the blue luminescence of its LED downlights, the Lifton Home Elevator offers a first-class travel experience, moving gracefully between floors in under 30 seconds.
This can make it an ideal alternative to a stair lift for users with mobility issues, helping you stay in the home you love. This type of elevator also acts as a great dumbwaiter to carry items up and down in the lift without using the stairs and can work in new homes too.
Designed to be admired and then blend into the background, this residential elevator is inspired, with slimline stilts and no need for a pit or shaft, allowing the homeowners to 'park' it while on another level and call it at the touch of a button. To learn more about how we are changing lives with Lifton elevators, get in touch with us today to receive your free brochure, or request a call back at a time that works for you.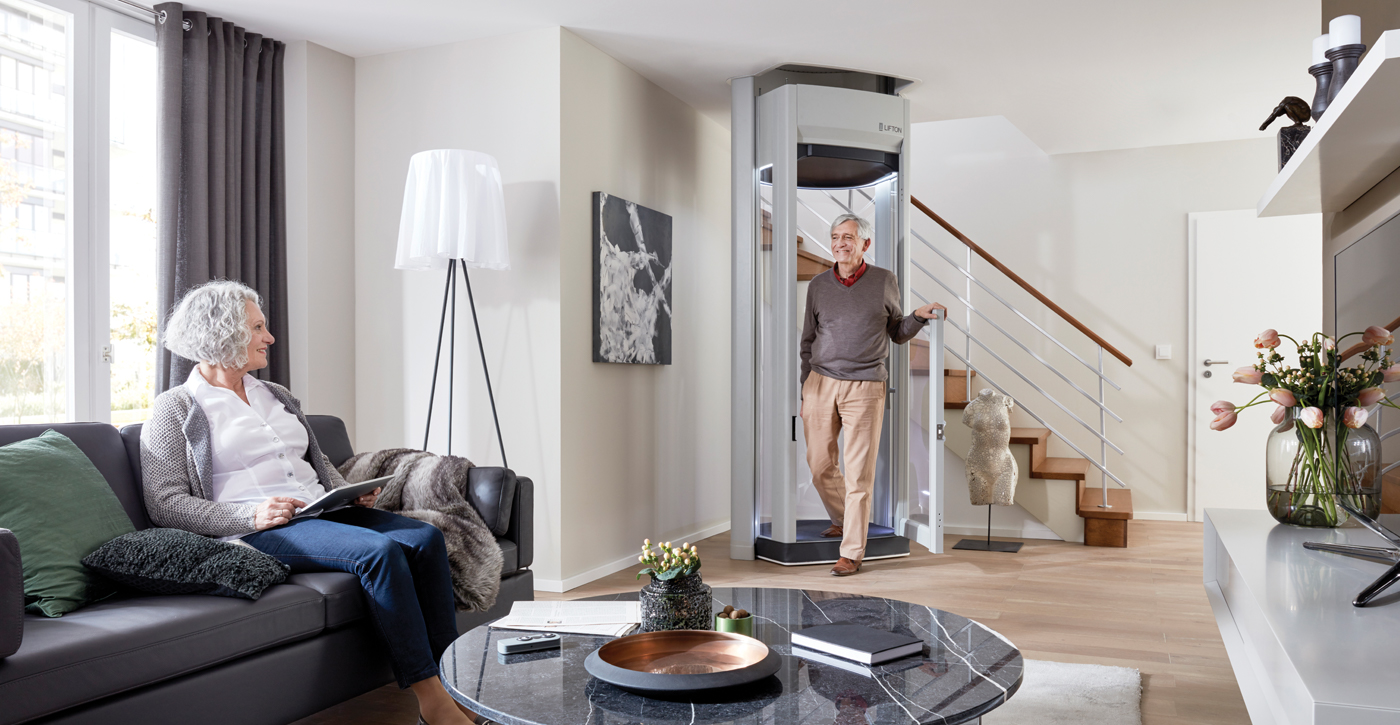 Moving on up: Rising above the rest with the LiftonDUO Home Elevator
The LiftonDUO Home Elevator accommodates two passengers. Its intelligent technology brings the future to your home. This residential elevator is safe, quiet, fast and energy efficient – plugging straight into a standard, domestic power socket. The elevator cab benefits from a compact small footprint measuring less than 7sq of surface area – including the rails – meaning the lift can fit almost anywhere within the home – from living area to master suite, from closet to closet or even in the turning of a turning staircase. A typical elevator installation can take just one day with no hoistway required.
Brilliant engineering: Access all areas with the LiftonTRIO Home Elevator
The wheelchair accessible LiftonTRIO Home Elevator is the very first home lift of its kind specifically engineered to accommodate a full-sized wheelchair. Modular, versatile, luxurious and stylish, the LiftonTRIO residential elevator breaks new ground with its spacious cabin and smooth ride. These wheelchair lifts include convenient hold-to-run controls and gently sloping access ramp. Choose the home lift thru-car option with entry and exit points on both sides for maximum maneuverability. The LiftonTRIO can carry up to three standing passengers.
Residential elevators give you the freedom to travel beyond your barriers
The future has arrived. It is time to go beyond your barriers and live an extraordinary life. Lifton can give Americans the freedom to move around your home with zero restrictions. The stairs are simply a thing of the past. For our comprehensive FAQs click here.
Don't compromise on floor space
When you are not on the same floor as your Lifton home elevator, its smart elevator designs means only two slender rails are left in sight, leaving you with plenty of space to move around as normal. There is no dead space going to waste.
Obstruction detection
Lifton Home Elevators include all the safety features you would expect with built-in sensors included. These sensors automatically detect obstructions above and below the residential elevator when it is in motion. Your home elevator will immediately but smoothly stop when an obstruction is detected.
Simple control panel
The operation of your Lifton Home Elevator is simple and intuitive. Everything is in just the right place. For additional safety and security, the control panel can be secured with a key.
Small footprint
With a compact footprint, the types of lifts Lifton offer gives you many more options on where to install it, so you can keep your room layout just as you like it. This product is not like a commercial elevator or vacuum elevators which can be tricky and complicated to install.
Self-supporting structure
Unlike many other small home elevator you will not need to fix your Lifton Home Elevator to a load-bearing wall. Our residential elevators run on their own rails which are fixed to ceiling and floor.
Plug and play
Once this completely shaftless home elevator is installed, it operates off the power of a standard domestic electricity socket for maximum convenience and also saving on your energy bills.
Integrated drive system
Lifton Home Elevators use an advanced wire rope hoist winding drum system which is safe, strong and whisper-quiet. It is hidden inside the lid of the lift so there is no need for bulky or noisy external machinery.
Ergonomic and stylish design
High-end luxury, but with a timeless design that blends with your personal tastes as well as the changing seasons, the Lifton elevator subtly catches the eye and then blends naturally into the background.
Remote control
The Lifton home lift includes two remote controls which can be used to call the lift to you wherever you are and whenever you are ready. There is an option to purchase additional units if desired.

I cannot tell you what a pleasure it is to be able to move around the house freely again
Stylish flexibility. You are in control
Unlike a traditional elevator, the beauty of a Lifton Home Elevator is that you can install it almost anywhere in your home.  In a corner, a standard retrofit, in a cupboard, in a stairwell or through a galleried landing. You can even put it in pride of place in the center of the room.
Family room
You decide where to place the Lifton Home Elevator within your living room; in a corner, or space permitting, center stage.
Upstairs bedroom
Tuck your Lifton residential elevator into the corner of your bedroom for an easy and quick way to access the floor below.
Stairwell void/landing
A stairwell void is a good place for home elevator installation taking you from ground floor directly to first floor landing.
Garage
Move directly into your home safely with the additional construction of a simple shaft in your garage.
Closet installation
The spacious 2-person Lifton Home Elevator is still small enough to fit into a domestic cupboard or wardrobe.
Sloping or vaulted ceilings
A few simple adjustments will make sure the Lifton residential elevator will work with sloping or vaulted bedroom ceilings.
Ask our specialists a question
Our nationwide lifts company will answer all your questions and help you understand whether installing a residential elevator is the right thing for your family. We can discuss how the home elevator will work in your home, residential lift specifications as well as answer any questions about installation, elevator customizable options, warranty, maintenance and more. For more information on home elevator prices, visit our home elevator price page.