Simple, convenient
& brilliant
Flexible, discreet
& functional
Luxurious, stylish
& intelligent
Home elevators and residential elevators which are designed for high living
Lifton Home Elevators have a strong aesthetic sensibility but – these residential elevators are not just designed in incredibly good taste – they are also a masterclass in innovation.
Re-imagine, reconsider and rework how you move around your home your property with the ultimate upgrade to your home. The range of shaftless residential elevators and home lifts by Lifton are fast, smooth and elegant. Working with, not against, your personal style, these elevators are compact with a curved profile and lit with LED down lights.
The Lifton Home Elevator is built to discreetly slot into neat spaces and can be located in the corner of a room, the void of a turning staircase or even a closet. To learn more about how our machine room-less home lifts can transform your home, get in touch with us today for your free brochure, or request a call back at a time of your convenience.  There are different elevator types and elevator models available. Click on the link for more information about typical home elevator costs and pricing and elevator prices.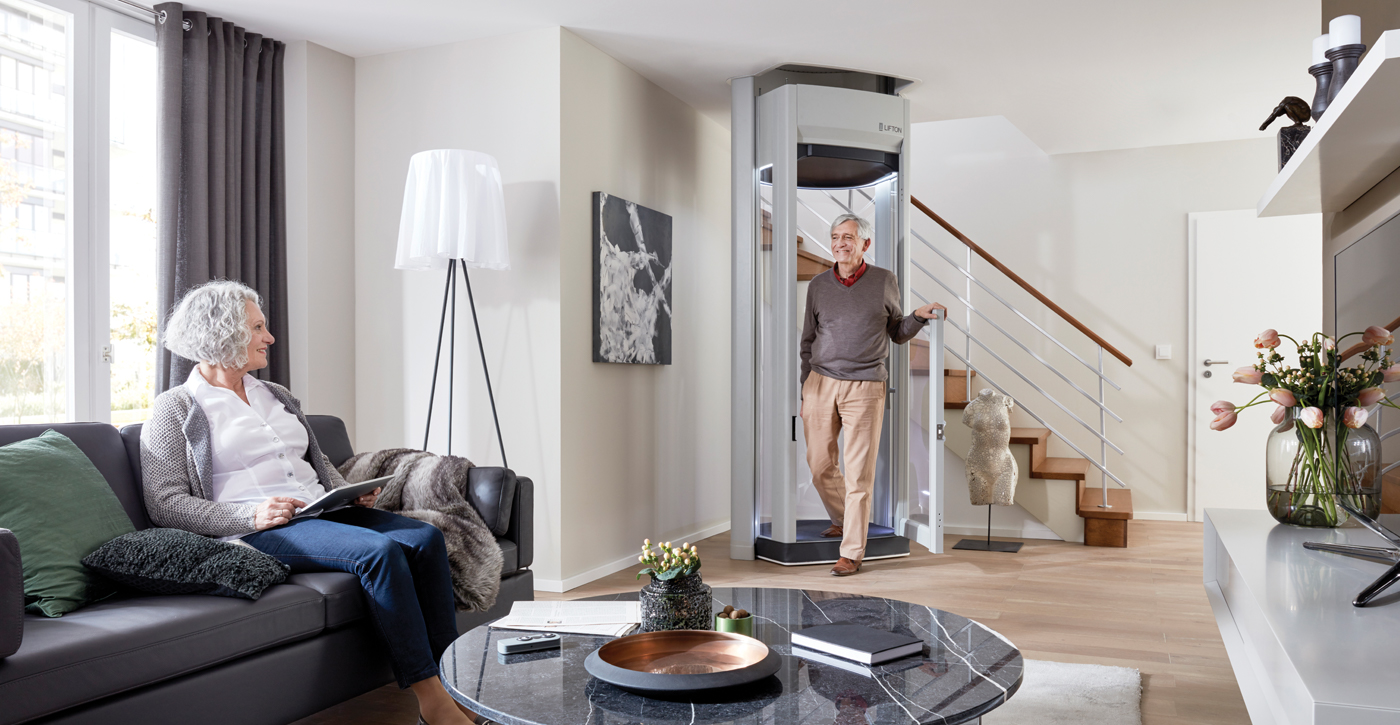 Moving on up: Rising above the rest with the LiftonDUO Home Elevator
The LiftonDUO Home Elevator accommodates two passengers. Its intelligent technology brings the future to your home. This residential elevator is safe, quiet, fast and energy efficient – plugging straight into a standard, domestic power socket. The elevator cab benefits from a compact small footprint measuring less than 7sq of surface area – including the rails – meaning the lift can fit almost anywhere within the home – from living area to master suite, from closet to closet or even in the turning of a turning staircase. A typical elevator installation can take just one day with no hoistway required.
Brilliant engineering: Access all areas with the LiftonTRIO Home Elevator
The wheelchair accessible LiftonTRIO Home Elevator is the very first home lift of its kind specifically engineered to accommodate a full-sized wheelchair. Modular, versatile, luxurious and stylish, the LiftonTRIO residential elevator breaks new ground with its spacious cabin and smooth ride. These wheelchair lifts include convenient hold-to-run controls and gently sloping access ramp. Choose the home lift thru-car option with entry and exit points on both sides for maximum maneuverability. The LiftonTRIO can carry up to three standing passengers.
A residential elevator which is your ticket to the top
Unlock the freedom to enjoy your whole home, whenever it suits you. Unlike hydraulic elevators, Lifton Home Elevators require no elevator shaft and is easy to retrofit due to an intelligent drive system. It saves time, space and energy with a smart 'plug and play' technology elevator system which installers can put in quickly. Its many uses extend far beyond passenger travel, making transporting heavy cases, laundry and even the vacuum cleaner between floors, a piece of cake. Like a dumbwaiter at home!
Benefits of installing a premium home lift
Rapidly becoming commonplace in new builds, as a remodel option in upscale renovations, prospective home buyers are actively attracted to homes which are accessible by the best home elevators on the market. Many property investors look to the future accessibility, longevity and flexibility of a family home. Home lifts are becoming the preferred choice with homeowners new homes and older houses because this type of product acts as a stylish alternative to a stair lift and can be a cost-effective solution compared to traditional elevators. Elevator safety is of paramount importance at our home elevator company, and all our products include all the safety features expected from a leading elevator manufacturer brand. Extras such as handrails can also be added. Check out our FAQs page for more information advising on types of elevator, power outages, weight capacity, warranty and more.

The Lifton Home Elevator is a simple yet very elegant solution to making your home easier to live in
Ask our specialists a question
Our nationwide lifts company will answer all your questions and help you understand whether installing a residential elevator is the right thing for your family. We can discuss how the home elevator will work in your home, residential lift specifications as well as answer any questions about installation, elevator customizable options, warranty, maintenance and more. For more information on home elevator prices, visit our home elevator price page.